CONNECTING YOUNG CHILDREN WITH NATURE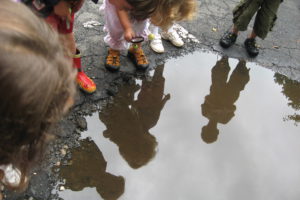 TEACHING YOUNG CHILDREN  |  VOL. 8 NO.1
CONDIE WARD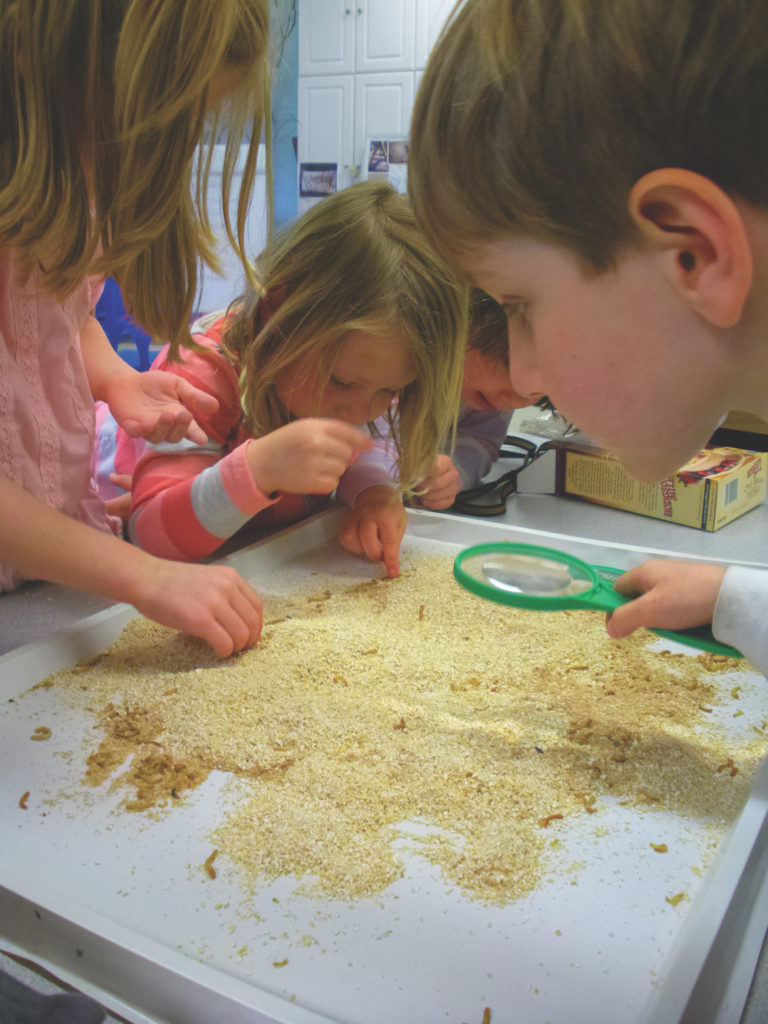 Children and nature go together—
or should. Recent studies document the importance of introducing children to the natural world, beginning in the early years. Their social, emotional, and physical health depends on this exposure to develop. Humans are hardwired to need nature—because we are part of it. In some communities, children lack access to nature and the freedom to explore local flora and fauna. How can children care about nature if they haven't experienced it firsthand? Adults must do what they can to ensure that children have those opportunities.
I teach a class of 16 active 4-year-olds. It is early October and today the children are observing a salamander and a common black cricket. Each creature is housed separately in a clear plastic container with a lid. As the children arrive they are immediately drawn to inspect the critters more closely, parents in tow. What is it? they want to know. Parents ask the same question. Comments from the adults play a key role in children's comfort level. If adults show fear or disgust, they might need to learn about nature too.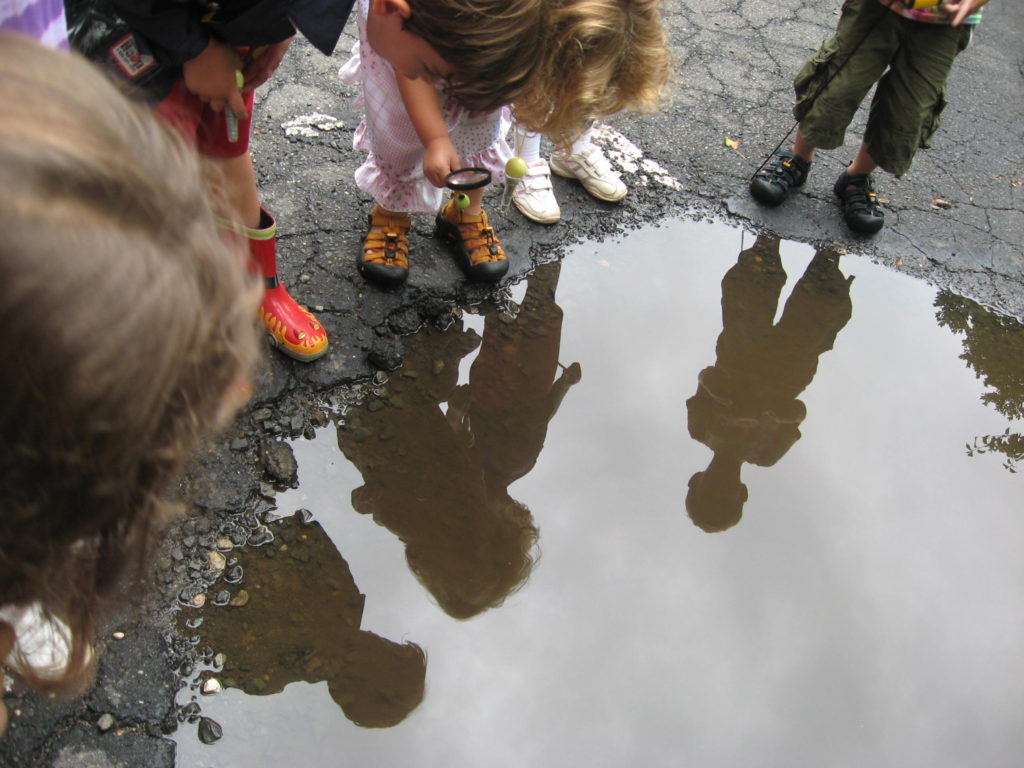 Being surrounded by nature and natural items provides infinite benefits to children. Nature instills in everyone a sense of beauty and calmness. It exposes us to things that are alive and growing and promotes curiosity and exploration. With an adult as a guide, children can learn about being gentle and respecting living things. Self-esteem can thrive outdoors because nature doesn't judge people. At a time when bullying is prevalent—even in preschools—exposure to nature can help remind children that the world contains an infinite variety of things and all are important. To observe nature requires patience and quiet watchfulness. Imagination comes into play as children create special places and use natural items to create stories and play. All senses become engaged when children interact with the natural world.
Nature enriches life
On any given day in our classroom we may highlight a live creature, but every day each learning center offers natural items. They are intentionally selected to invite children's interest. We put out natural materials that will challenge and inspire children's thinking with no set outcome. These have included findings from the beach, forest, and other ecosystems. For example, we added rocks and sticks to the building area, along with an assortment of wooden blocks. Many times rich discussions and experiences grow out of these starting points.
For preschoolers, learning about what is in one's own backyard is a great place to start. It is where children can get up close and personal with the environment. This kind of learning prepares children for the primary grades, when they will deepen their nature knowledge by learning about the world at large.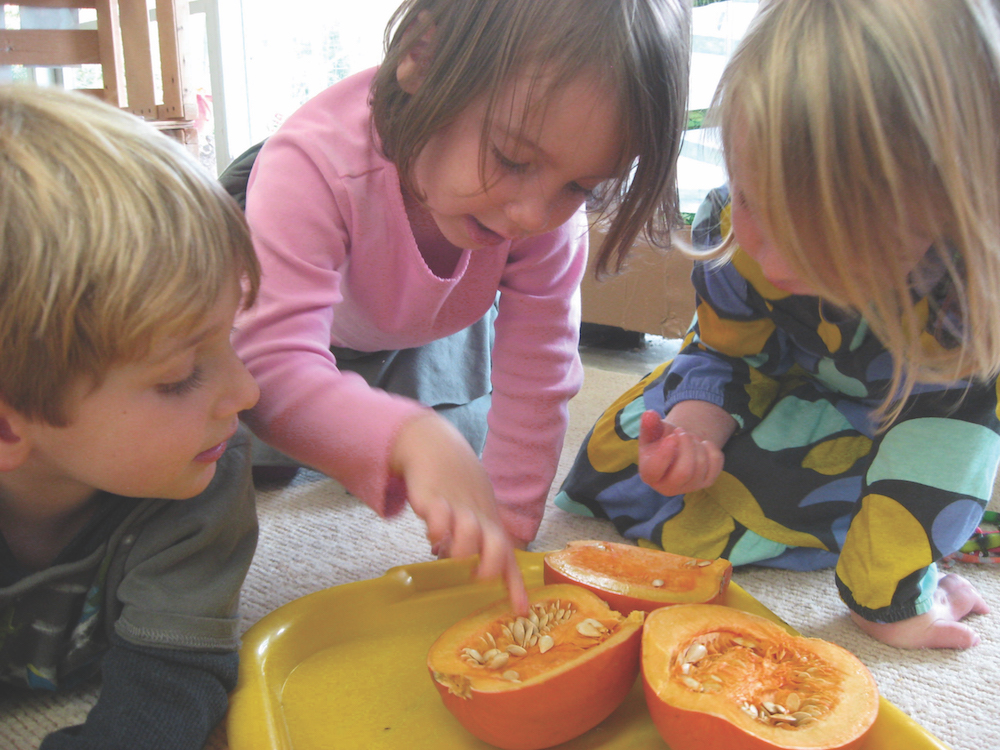 Each year I make a tree the focal point of the room to make the classroom feel more like the outdoors. This tree is usually housed in the nature corner, a loosely defined area next to the windows. One year I built a grid-shaped nature wall using tall, thin young trees that I spaced a foot and a half apart. This backdrop provided a canvas on which to display natural items collected by children and teachers, such as birds' nests, giant leaves, and pinecones, which the children were allowed to touch and examine. Children's artwork and photos of nature were displayed in the open squares of the grid.
The children felt a strong connection to the nature wall because they had a direct hand in its creation. It told a story about the children in the class. Children often played or read a book near it. By bringing nature indoors, the children's daily world became richer and more memorable.
RELATED: The Ultimate Guide To Fishing With Kids
Conclusion
There can never be too much nature inside a classroom. It is the antidote to the fast-paced, stressful world in which many young children live. Equally important, it encourages an appreciation of the natural world on which we depend. As an educator, it is my job to help children connect with nature in as many ways as possible. Over the years I have seen the numerous benefits from this relationship. The primary benefit is that children become better observers and feel more connected to the outdoors. I've also witnessed children with challenging behaviors focus for extended periods of time when exposed to the natural world. Their curiosity is piqued by what is around them. All children can benefit from exploring and spending time in nature. TYC