Tips for Camping with Kids and Enjoying Family Time in the Outdoors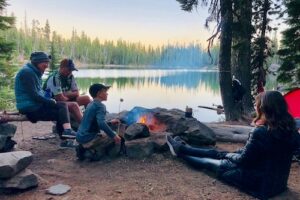 Camping with kids can be an incredibly rewarding and memorable experience for families. Spending time in the great outdoors provides an opportunity to unplug from the distractions of everyday life and reconnect with nature and each other.
But as you know, camping with children can also present some unique challenges that require planning and preparation so it all goes smoothly. In this article, we will provide some helpful tips for camping with kids and enjoying family time in the outdoors.
We'll give you many tips to help you choose the right campground and the right activities and gear to bring for the ultimate family camping experience. Our hope is to help you make the most of your camping trip and create lasting memories together!
Benefits of Camping with Kids
Camping with kids can be a wonderful experience for the whole family. Not only does it provide a good multi-day opportunity to spend quality time together, but it also offers a range of tangible benefits for your children.
How Can Camping Be Rewarding for Kids?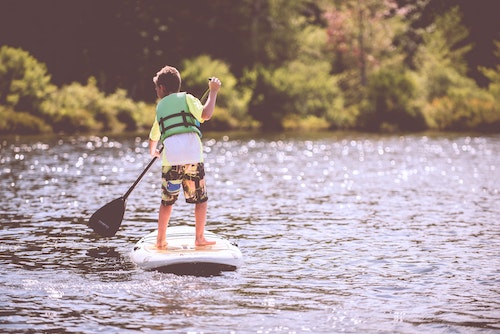 Camping is one of those activities that can be rewarding for kids in many ways like increasing physical fitness, enhancing qualities of self-assurance and independence, and building confidence through accomplishment.
It's also the perfect way to help them learn about and appreciate the wilderness around them.
Camping for a couple of nights away from home with family can be rewarding for kids as it helps them to get away from the technology they're surrounded with every minute of the day. It allows kids to take a break from looking at tiny screens so they can appreciate a different side of reality that we all knew as children.
Camping naturally encourages a lot of physical activity. Hiking, swimming, and playing active games outside can reconnect kids with their sense of exploration before they had a phone or game console.
A couple of nights away from home can increase independence and foster better decision-making as many problems and tasks are different from being at home and require new solutions. Kids can learn new ways to cook food, and the value of preparation for the trip. They may even learn about the pain of forgetting important items at home.
Camping with family can ease the stress of living at home because it's a vacation where the focus is on fun and learning. This can be beneficial for their mental and emotional health.
Lastly, camping can grow a sense of adventure in children. Exploring new environments and trying new things builds confidence and a sense of adventure. Repeated outings can really change a child inside and give them a lifelong appreciation for the natural world around them.
How Can Camping with Kids Be Rewarding for Parents?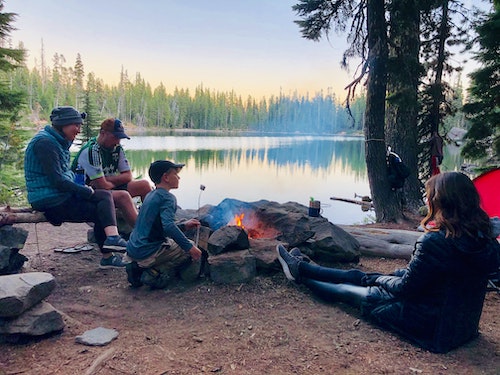 Camping is certainly a benefit for your kids, but you'll also be able to enjoy some of the benefits of spending time away from your home, work, and technology.
Camping with kids strengthens family bonds and gives you a way to spend time together that is different from other situations that may be more stressful. It's certainly less stressful than flying to Paris or Los Angeles for a weekend in the city where you'll spend a lot of money.
Camping is a budget-friendly excursion that can help you forget about money and the stresses of everyday life at home. Distractions lessen and moods change while spending some time in the wilderness.
It can be difficult these days to really connect with your children with so many distractions and things for them to do at home. Camping takes some of that away and offers an opportunity for parents to focus on creating stronger bonds, stronger connections, with other family members.
Camping introduces you and your kids to a learning environment that is always there and rarely thought about. Exploration during camping outings is one of the most rewarding activities you can do together. It's doubly powerful when you are both learning about something in nature you've never thought about.
Teamwork can increase in the family as the group comes to realize that things get done faster when there are people working together who know what the plan is for activities. Everyone can learn that they have something valuable to contribute in this atmosphere and should be encouraged to speak up to get their needs met.
Parents can also feel a sense of accomplishment as the vacation unfolds. It can be a real challenge to bring the family together to do something like a camping trip and the pride of pulling it off is a great feeling!
Start in the Backyard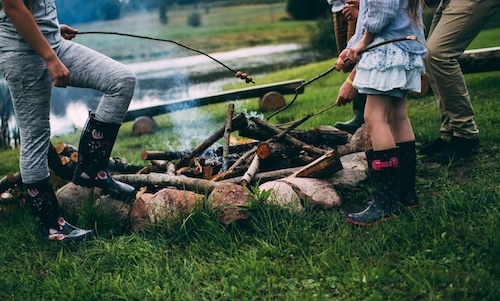 What better way to introduce your kids to the amazing world of camping than starting in a very safe place? Your backyard is the ideal camping place because it's probably safe enough with you there with them. It's also a cool new place to sleep, and you can go inside anytime they get too afraid or cold or decide they aren't ready for the great outdoors just yet.
Here are some tips for a positive backyard camping experience with kids.
Make a Tent!

– Building a tent in the backyard before you go camping somewhere in or near the forest can be a good first step to introducing your kids to the feeling of being on a real camping trip. Ease them into it to help ensure a positive experience when you go do it for real.

Make a Campfire

– If you can make a campfire in the area you live in, make a small one and introduce your kids to cooking marshmallows on a sharpened stick.

Bring Camping Gear

– Bring sleeping bags, air mattresses, pillows, flashlights, a pen knife, playing cards, and other camping gear to create an authentic camping experience in your yard that mimics a real camping trip.

Bring Things to Do

– Bring books, cards, games, or other activities to help keep kids entertained if they get bored.

Emphasize Safety

– During this practice camping in your yard, you can review basic safety rules about camping and fires, knife use, and make sure kids know they must tell an adult where they'll be if they go exploring anywhere.
Tips for Overnight Camping with Kids
Leave the Electronics at Home
You may remember a time when you were camping as a youngster and you didn't have the latest video games, apps, or even a phone on hand. I sure do. When we went camping as kids it was really about getting out into nature and exploring new things.
For a real down-to-earth experience, leave all the electronics at home except some essentials like headlamps and a phone with a good connection for emergencies.
Plan Fun Meals and Snacks
With all that energy being expended, you'll need to fuel up. Here are some tried and true meals and snacks that will make your camping experience even better.
S'mores

– A well-known classic camping treat, s'mores are created with graham crackers, roasted marshmallows, and a chocolate bar or chocolate chips (for making cookies). Have kids roast marshmallows over the fire on a sharpened stick and then add them to the graham crackers, sandwiching the chocolate between layers of hot marshmallows. Sure, it's a mess, but that makes kids love it even more!

Trail Mix

– Choose types of nuts, dried fruit, pretzels, chocolate chips or M&Ms, or some other candy to mix up and put into individual plastic baggies with a Ziploc closure for each person in your group. Kids can customize their own mixes with their favorite ingredients.

Hot Dogs & Hamburgers

– Hot dogs are an absolute must on a camping trip! You can cook them on clean foil on a grill at the campsite, or on one you brought. Don't forget, you can also sharpen a stick and slide them on there the same as you would roast marshmallows. Tell kids to make them nice and dark! Don't forget kids' favorite toppings – ketchup, mustard, mayo, cheddar cheese, and relish.

Foil-wrapped Dinners

– Foil-wrapped dinners either pre-made at home or made on-site and ready to heat over a campfire are convenient and can provide a change of cuisine while camping. Ask your kids to help plan what goes into them with their favorite meat, vegetables, and seasonings. If you're catching fish, you can always gut them, descale them, and add cut onion or other items for taste. Wrap them in foil with some salt, pepper, and butter.

Banana Boat Snacks

– Another fun and easy camping treat, banana boats can be made by slicing a banana longwise and filling it with marshmallows, chocolate chips or syrup, and anything else that will make it delicious. Wrap it all in some foil and either cook it on top of the grill or in the fire you can place it on hot coals.
Choose a Campground with Kids' Activities
Some campgrounds are focused on the family experience and offer a variety of fun activities kids will enjoy. Here are some key activities to look for when planning your camping trip.
Hiking

– Try to find a campground that is on the edge of nature and that has hiking trails kids can explore with an adult accompanying them. Hiking trails are great because kids can explore the outdoors, learn about nature, and get some exercise in the process.

Swimming

– A swimming pool or lake where swimming is safe can give kids hours of fun and is especially useful when the weather is hot in the afternoons. Bring floats, or better, life vests for small kids and teach them how to move around in the water on their own. Always supervise young kids even if there is a lifeguard present.

Fishing – If the campground has a lake, river, or stream close by then fishing can be an ideal way to spend some time as a family and give them a sense of accomplishment while they're catching fish. Set the stage so they do catch fish and make it an activity they enjoy for the rest of their lives. I know you know the importance of this activity! Research beforehand whether you'll need a state fishing license or if it's private land and no license is necessary.
Campfire Storytelling

– Gather around the campfire at night and either tell stories you've heard or stories you make up. These can be scary or teach a life lesson. If you're not creative like that, download some videos to your phone and play them for everyone to listen to around the campfire. This is probably something you've never done at home, and it can be quite memorable for kids.

Scavenger Hunts

– You can have your own scavenger hunt or some campgrounds do this as a service with organized hunts. This is a fun way for kids to explore the grounds and get to know where things are. If there are other families there, they may be able to make friends quickly too.

Crafts

– Some campgrounds really go the extra mile and offer craft activities for kids, like painting, jewelry making with beads and cord, or even tie-dying t-shirts with bright colors. Even if your campground doesn't have this, you can always bring supplies to give kids something to do on a rainy day.

Outdoor Games

– Some family-oriented campgrounds have locations for games and even rental gear.  Games like volleyball, horseshoes, basketball, archery or an outdoor climbing apparatus can be a fun way to make new friends.

Bike Rentals – If you can't bring your own bikes, see if you can find a campground that rents them. Even a simple path around a lake can make the entire lake surroundings an extended playground for kids.
Movie Nights

– You know you're in the right place for camping if they have a movie night! Ideally, they can set up a projector on a grass or sandy area and show a family movie at night before bed.

Eco Classes

– Sometimes local biologists or people with a keen interest in teaching kids about the flora and fauna around them teach informal classes outdoors. What better way for your kids to learn about nature than from experts? This is one of our highly recommended services you should search for when you choose a campground!
Tire Them Out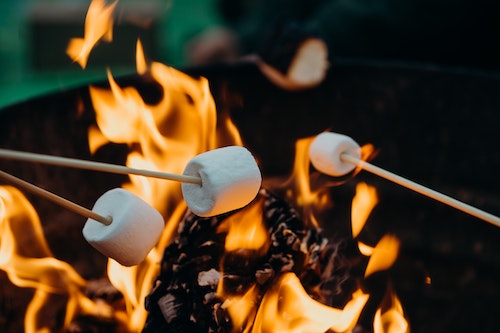 One thing about camping that will become apparent by the first night you're out there, the kids are going to be wiped out from exhaustion if they spend the day playing and exploring. Why not make that the focus, having them see and do new things?
After all, they've explored your home, the area around your home, and the inside of the car. Take them way out of their element and take them on a two-mile hike into the forest to find mushrooms, flowers, fruit and berries, different kinds of trees, and maybe deer, frogs, or other wildlife.
Climbing hills is especially good for tiring kids out and it will give them something to be proud of. The accomplishment of climbing a hill and seeing the view, or even just conquering the hill under their own power feels good and they'll remember it.
Also, a good view can be part of the reward. You may remember climbing a hill or climbing up something tall when you were younger and feeling like you really did something. I still get that feeling today!
Let Them Explore
It's probably a good idea to have some structured activities and some unstructured time where kids do whatever they want. A big focus of camping with kids is to encourage them to explore their surroundings and to get interested in things they've never seen or even heard of before.
Even structured activities can have a hint of exploration involved.
Make sure to do at least one scavenger hunt while you're out camping. Give them a list of items they have to find and check off and bring back to see who gets most of the items within 30 minutes. Items like a round rock, sharp rock, dead flower, yellow flower, four-leaf clover, pine cone, old stick, etc., and anything else you can think of by looking around at your surroundings.
A good way to ramp up the excitement and complexity of the game is to assign points to each item. Make rare items worth more points. Keep the time limit under 30 minutes to keep them interested. Make sure there are lots of easy things to find too!
Bring Fishing Gear
It isn't really camping if there is no place for kids to fish! Plan your camping outing at a campground or natural area that ideally has a fishing lake with a pier or bridge the kids can fish at. Do a little research first and make sure there are fish being caught there regularly and find out the rig and bait to use for the best chance at it.
Every child should have their own rod and reel. Other gear can be shared, a shared tackle box they can stock and arrange themselves would be ideal. Small entry-level rods for kids under ten are not expensive and you can probably pick them up for $20 or so. Look for spincasting reels. They are often sold all ready to go, just add a wiggling worm to the hook and drop it in the lake.
Wherever you go, make sure catching fish is possible and that you bring the right bait. Sometimes bread works, balled up on a hook. One bait you can count on to produce bites if you're fishing in a lake where fish are is small worms. You really can't go wrong with them for bluegill, perch, and crappie.
Use red and white or other bright-colored bobbers so they can have a visual alert to fish biting as well as the vibration in the fishing rod. Using a light line like 2-4 lb. fluoro or mono will ensure the most bites possible.
Stay away from artificial lures for very young kids under ten as they aren't likely to grasp the idea and be able to carry out the game plan for casting artificial lures successfully.
Fishing Bait to Bring
Small Worms + Big Worms

– Small worms will catch small fish, but get some big night crawlers if you have some older kids with better reels/rods that can handle a bass or other freshwater fish.

Salmon Eggs

– The smell and texture of salmon eggs can be too hard to resist for trout in a lake or stream.

Berkley Powerbait and Gulp Alive

– Powerbait is artificial bait like moldable foam. You can roll it into balls like salmon eggs, or buy it in pre-made shapes. It is made of brilliant hard-to-miss colors. Gulp Alive! is attractant goo that makes your bait smell good to fish.

Bread

– Easy to bring along as you'll probably have sandwiches already.

Small Minnows

– Get them if you can catch some in a minnow trap or buy some at the bait shop and keep them alive long enough to fish with them.
Bring Bikes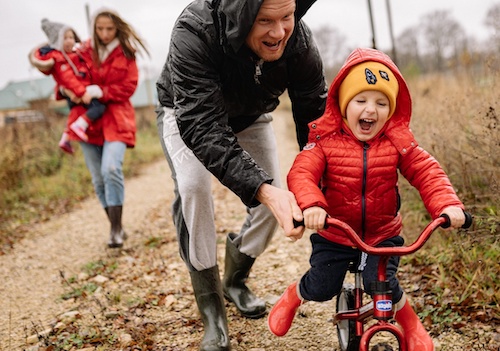 If your kids love cycling, you may be able to bring the bikes along when you go camping. I never had my bike around while camping, but I did take my Raleigh knobby-tires bike up into the forest to ride on the paths all the time around our home.
When you go camping, especially the first couple of times, you should try to make the experience the best it can possibly be so your kids enjoy it and want to repeat it. Camping is a great way to build independence, courage, resilience, and expertise in dealing with the outdoors.
There are so many things to learn and do that they've never been exposed to. If you're not a natural outdoorsman/woman, you can research and learn before you go so you can appear like an expert when you get there!
Give Everyone a "Job" (collect firewood, etc.)
There is no shortage of things that need to be done when you go camping. Help kids learn responsibility by giving everyone a job or task they need to take care of during the trip. Here is a good start for things that need to be done, you'll surely build on this list for your own trip.
Build and take down their own tent.

Collect dry sticks, branches, and logs for the campfire.

Help start and tend the campfire (with supervision).

Assist with meal prep, gutting and removing scales from fish, cutting vegetables, or washing dishes.

Keep your campsite clean.

Hydration police. Assign someone to keep track of how much water everyone is drinking.

Take turns carrying a backpack or other gear on hikes.

Camp photographer. Camp videographer.

Baby watcher. Someone needs to keep an eye on the toddlers!

Keep a daily journal or sketchbook.
Pack Warm Clothes
It probably goes without saying that you'll need to pack warm clothes if you're in an area where temperatures get down low. Temperatures can fluctuate between warm and quite cold at night, and if you're sweating during the daytime, you're going to need different clothes to sleep in.
Always pack more clothes than you need. Someone always falls into the lake or stream and needs a change of clothes. Someone always gets too muddy or gets sprayed with a skunk!
If it is cold in your area, bring layers of clothes and put the breathable layers next to your skin. Forget about cotton in the cold, it doesn't dry out quickly enough and can leave you colder than you should be.
Hiking boots, scarf, gloves, mittens, long undies, and changes of clothes, all of these should be on your packing list when camping in cold weather.
Bring Outdoor Games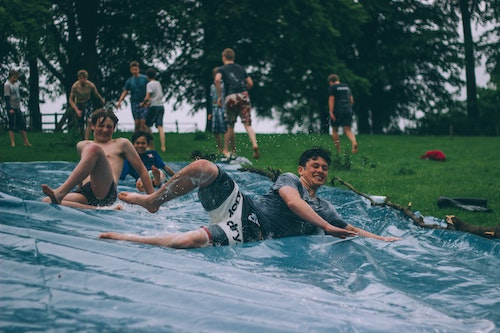 Here are some fun outdoor games that can be brought from home to help your kids have a good time while camping.
Frisbees

– You all know what a Frisbee is. This is one of the ultimate ways to pass time, have fun, and learn hand-eye coordination. Try Frisbee golf if your kids are good at it!

Soccer Ball or Kickball

– Super fun, especially for groups of four or more.

Bocce or Petanque

– Fun games from Italy and France where you roll or throw large metal balls toward a smaller ball target. Ideal for sand, grass, or very small pebble surfaces.

Ring Toss or Jarts

– A classic game that can be played by all ages, and can be set up on any grassy or dirt area.

Water Balloon Toss

– A fun and refreshing game that's perfect for a hot day, and can be played in any open area.

Snorkel Gear

– Make sure there's a swimmable lake or pool for kids.

Telescope

– Use during the daytime to spot deer or birds. Use it at night to look at the stars and moon.
First Aid Kit
Don't forget about a first aid kit when you pack your vehicle up for your great adventure. There are always small scrapes and other minor first-aid problems to deal with.
Here is a great article about common campsite injuries and how to prevent them.
If traveling far from home, you should also take a few minutes to locate the nearest hospital to your camping location.
adhesive bandages, sterile gauze pads, tape

antiseptic wipes, spray, or Mercurochrome

Hydrocortisone cream and antihistamine for insect bites, rashes, and allergies

clean, disposable gloves

tweezers – splinters, thorns, ticks, stingers

scissors

thermometer

pain meds – acetaminophen or ibuprofen for adults and children

SPF 50 sunscreen

insect repellent with DEET

aloe gel for sunburn relief

electrolyte mix for treating dehydration

emergency gear for major issues that might require you to stay long-term in overly hot or cold conditions
Conclusion
Camping with kids is filled with benefits for you and your children. It's well worth your time to start with a backyard camping experience and then move into a more remote camping excursion close to nature and with lots of things for your family to do.
If you're going to do this, the best experience will take a bit of pre-planning with the focus on making your kids' camping experiences really fun and something they are eager to repeat again.
The ultimate outcome would be that your family loves camping and does it often. Time spent in the outdoors can help redefine who they are and change their value system.
Camping with your kids can be a doorway to growth that helps them (and you) feel more connected to each other and nature. A win-win for all!