Here's the write up from Little Traverse Conservancy on our Natural Classroom Contest Winners: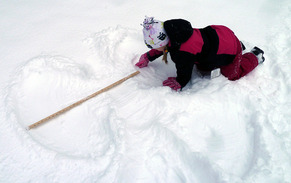 Little Traverse Conservancy celebrates the following educators who recently won prizes through Getting Kids Outdoors' first Natural Classroom Contest.
First prize was awarded to Mary Weitzel Bailey, a Harbor Springs area resident who has been a long-time educator for Pellston Elementary School. Weitzel-Bailey has been responsible for introducing thousands of children to lifelong sports like snowshoeing and cross country skiing as part of her physical education curriculum during the last 25 years. Every second-fifth grade student at Pellston snowshoes four or five times each winter on school grounds and adjoining natural areas. Students observe animal tracks, learn about winter ecology and participate in a nature scavenger hunt. Third-fifth graders also learn how to cross country ski on school grounds as well as the ski trails of Boyne Highlands.
Second place went to Megan Hintz and Liz Warner, fifth grade team teachers at Sheridan Elementary School in Petoskey. They started an outdoor initiative with the premise that students need the peace, tranquility, and enrichment the outdoors can provide. Through collaborations with North Central Michigan College professor James McCullough and his students, fifth graders participated in a range of activities that included making music in the woods, animal tracking, flower planting, and observing organisms in the college's pond. Fifth graders have also attended programming at the YMCA's Camp Hayo-Went-Ha and worked with McCullough to build on student writing skills through outdoor, sense-of-place writing, including things like "poetry by the pond" and "marathon writing around town."
Harbor Springs teacher Tracy Hunt was the third place winner in the Getting Kids Outdoors contest. Hunt is a third grade teacher at Shay Elementary, known for her creative projects and community collaborations. Her students often take advantage of schoolyard learning, like comparing the school's grove of white pines to those they saw at Hartwick Pines. In the school's woods, students also study life cycles and decomposition on the forest floor. They utilize the playground to create graphs, and explore the schoolyard through other creative math lessons, like using hula hoops to mark off specific locations, tally findings, and use the data to chart graphs back in the classroom.